Dry Needling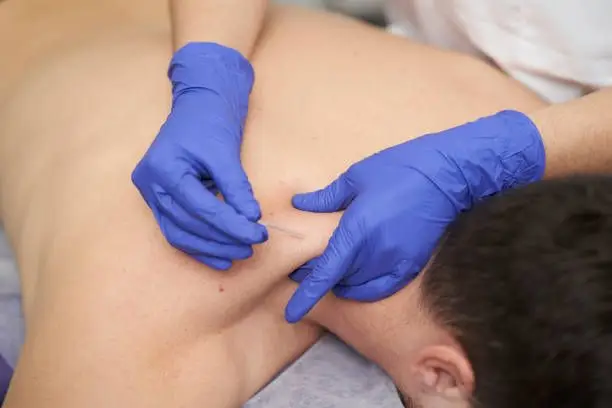 Dry Needling
All patients with any kind of pain problem will benefit from dry needling. This innovative pain treatment can be used to treat a variety of diagnoses including:
Headaches / Migraines
Neck pain
Lateral and medial Epicondylitis (Tennis Elbow)
Shoulder impingement syndrome
Low back pain
ITB syndrome
Piriformis syndrome
Sciatica
Greater trochanteric bursitis
Hamstring strain
Groin strain
Ankle sprain Plantar Fasciitis
Carpal Tunnel
Osteoarthritis
Fibromyalgia
Dry needling is a skilled intervention that uses a thin filiform needle to penetrate the skin and release underlying myofascial trigger points, muscular, and connective tissues for the management of neuromusculoskeletal pain and movement impairments. Dry needling (DN) is a technique used to treat dysfunctions in skeletal muscle, fascia, and connective tissue, and, diminish persistent peripheral nociceptive input, and reduce or restore impairments of body structure and function leading to improved activity and participation.
Precautions
Pregnancy. We recommend to not use dry needling during the first trimester of pregnancy.
Bleeding disorders. We recommend not to dry needle patients that have bleeding disorders.
Local infection. We recommend not to use dry needling with patients that have local infection near or around the site.
What is dry needling?
Dry needling is a modern treatment designed to ease muscular pain. Its popularity is growing.
During dry needling, a practitioner inserts several filiform needles into your skin. Filiform needles are fine, short, stainless steel needles that don't inject fluid into the body. That's why the term "dry" is used.
Practitioners place the needles in "trigger points" in your muscle or tissue. Dry needling is also sometimes called intramuscular stimulation. The points are areas of knotted or hard muscle.
Dry needling practitioners say the needle helps release the knot and relieve any muscle pain or spasms. The needles will remain in your skin for a short period of time. The length of time depends on the practitioner.
Some healthcare professionals, such as physical therapists, receive some training in dry needling. However, the length of training can vary. Keep in mind that there are no official regulations in place to tell you exactly who is qualified to perform dry needling.